Recent Study Reveals Data on Age, Gender, and Income of Jeep Wrangler Owners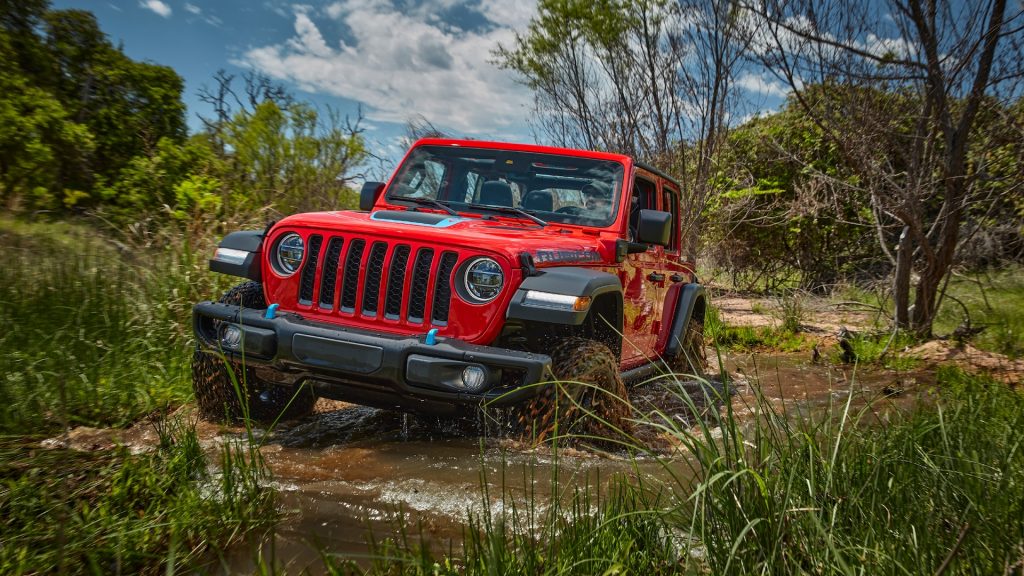 Owning a Jeep can feel like being in an exclusive club of some sort. Those that are regular practitioners of the "Jeep wave" are well aware of what owning a Jeep means in their lives.
But what exactly do we know about Jeep owners? Market research conducted by Hodges & Company gathered data on thousands of Jeep owners of 2007-2018 and 2018-2021 Wrangler and Wrangler Unlimiteds and goes into detail about whether the brand caters more to men than women, if the average Jeep owner is a parent, their average annual and median income, where in the U.S. they reside, and much more.
WHICH STATES HAVE THE MOST WRANGLERS?
Out of the 50 states, most 2007-2021 Jeep Wranglers and Unlimiteds (JK and JL) can be found in New York, followed by Texas, California, Pennsylvania, and Michigan.
For the most Jeep Wranglers (2007-2021 JK, JKU, JL and JLU) per capita, Oklahoma came in first, followed by Michigan, New Hampshire, Wyoming, and then New Jersey.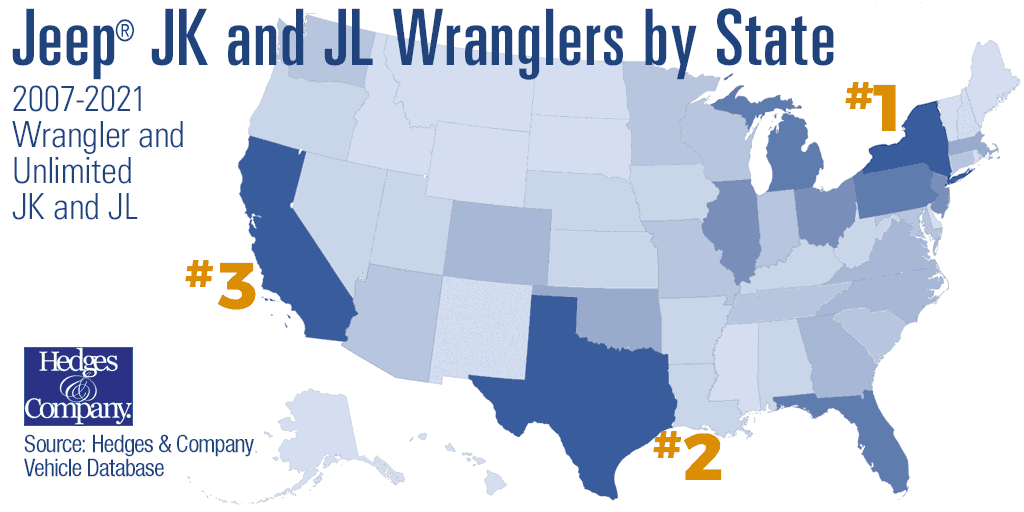 ARE MOST WRANGLER OWNERS WOMEN?
Another debate surrounding Jeep Wranglers is that if the model is favored more amongst women than men. Are they mostly driven by soccer moms picking the kids up from school? Or is it still largely driven by men.
The data claims that 28% of all 2007-2018 Wrangler JK and Unlimited JKU owners are women, with the other 72% being men.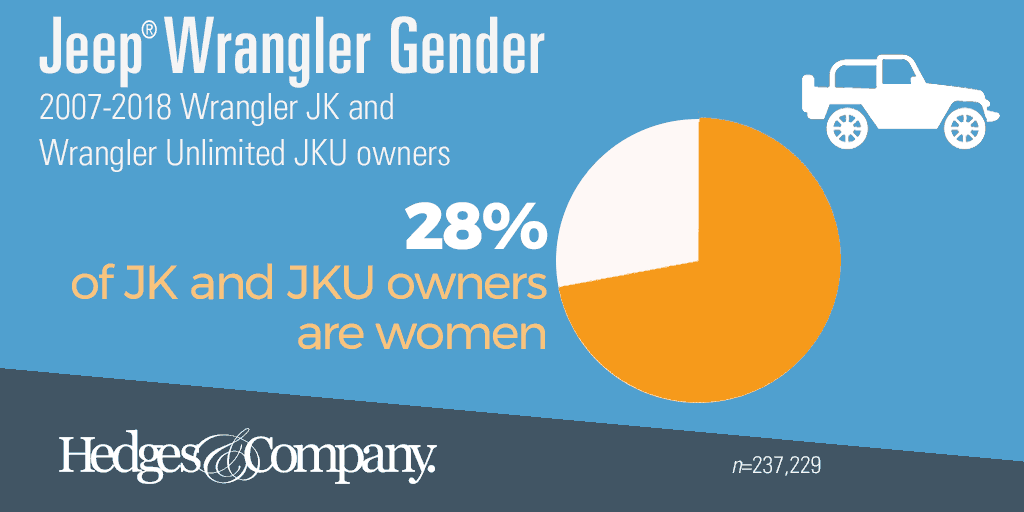 It is not until the newer (2018-2021) 4-door Jeep Wrangler Unlimited (JLU) versions that the math changes a bit. Of these models, 30% of Wrangler Unlimited owners are women. However, of the owners of the two-door Wrangler of the same year, only 26% of them were women.
Hodges & Company gathered data from a consumer database of over 300,000 Jeep owners for its gender analysis.
HOW MUCH DOES A JEEP WRANGLER OWNER MAKE?
As many may know, Jeeps are not cheap. The MSRP for a 2022 base model Jeep Wrangler starts at $29,995, and the multitude of trims and features will only send the price upward. So what does this say about the annual income of a Jeep owner?
According to the data, the average annual household income for a two-door Jeep JL is $115,616. Owners of the 4-door Jeep JLU have a slightly higher annual household income at $122,673.
Meanwhile, the median household income in the US in 2020 was $67,621, and the median income for employed individuals was approximately $43,000 in the same year.
Hodges & Company gathered this data from over 400,000 2007-2021 Jeep Wrangler owners.
HOW MANY WRANGLER OWNERS ARE ALSO HOME OWNERS?
If you own a Jeep Wrangler, chances are you are also a home owner. Approximately 94% of new 2018-2021 JL and JLU owners also own a home with an average value of $200,000.
Obviously, the value of a home is different depending on the state. The average home in West Virginia is valued at $107,064, where in California the average home has a value of $579,332.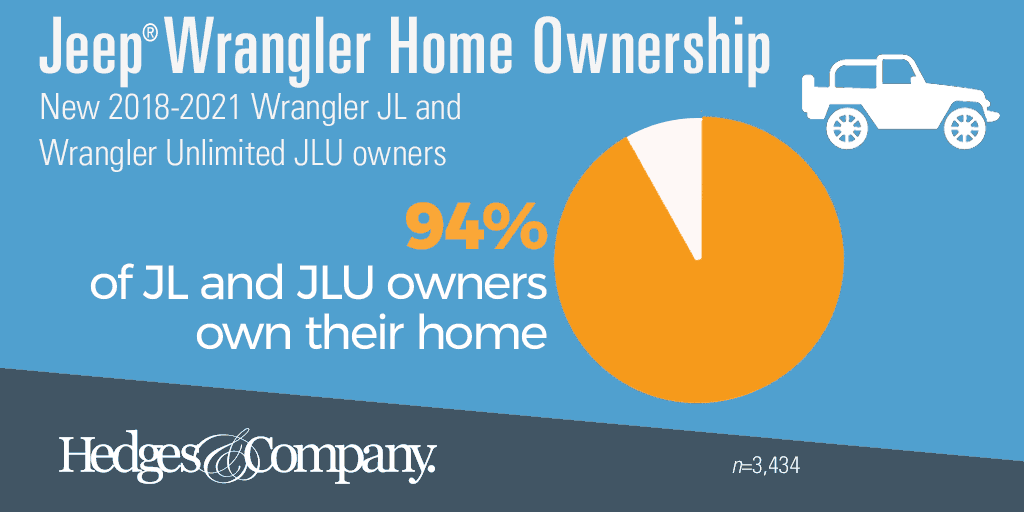 Approximately 64-67% of Americans are home owners, so it is fair to suggest that Wrangler owners score higher than the US average.
Meanwhile, owners of 2007-2018 JK and JKU are listed to be 85% as home owners.
AGE AND CHILDREN OF WRANGLER OWNERS
The data in this study found that a significant demographic of Jeep Wrangler owners are aged between 25 and 54. Below are the average percentages for age groups for owners of the 2018-2021 Jeep JL, with 93% of them having children:
Under 25: 1%
25 to 54: 38%
55 to 64: 30%
65 and older: 31%
Owners of the 2018-2021 Jeep JLU have significantly different numbers. With 96% of them are reported to be parents, the four doors make it a favorite amongst families.
Under 25: less than 1%
25 to 54: 56%
55 to 64: 28%
65 and older: 16%
For owners of 2007-2018 Jeep JK, 92% are reported to have children:
Under 25: less than 1%
25 to 54: 33%
55 to 64: 34%
65 and older: 33%
Lastly, below are the average age groups for 2007-2018 Jeep JKU owners, with 94% of them having children. Similar to the newer models, the four-door Wranglers are very popular with families in contrast to the two-door versions.
Under 25: less than 1%
25 to 54: 52%
55 to 64: 29%
65 and older: 19%
So what does this data tell us? Chances are if you own a Jeep, you are more likely to use it to pick up the kids from school than take it off-road.
Read More from PowerNation
Latest PowerNation Episodes