Ferrari Roma Hangs Mid-Air After Falling Through an Elevator Shaft at a Luxury Car Dealership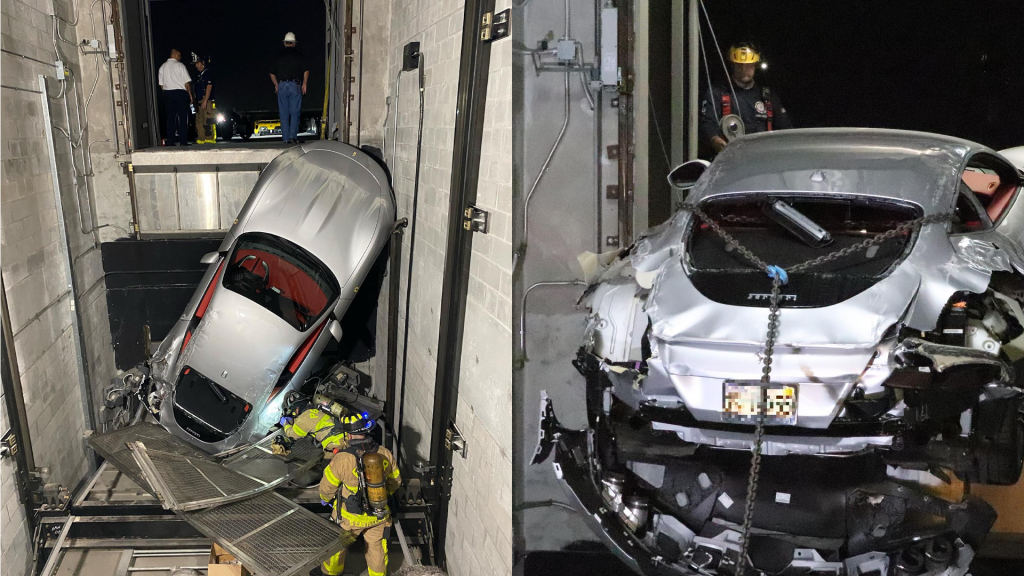 If you are ever having a bad day, always remember that somebody somewhere is having one much worse.
At a luxury car dealership in Palm Beach, Florida, a malfunction caused a $243k silver Ferrari Roma to be left dangling down an elevator shaft from the second story of the building.
According to the Palm Beach County Fire Department's Facebook page, they had to mitigate a fuel leak by assembling standpipes and cutting power to the dealership. Once that was handled, the Special Operations crew teamed up with a local towing business to physically remove the Ferrari from the elevator by using a rotator wrecker truck.
After four hours on the scene, they were able to successfully retrieve the car from the elevator shaft.
Based on photographs taken of the incident, it is believed that the car accidentally rolled on top of the main elevator compartment, as indicated by the damage to the rear end of the Ferrari.
While there were no reported injuries from the incident, the dealership itself isn't done stressed out over the event, as well as having to communicate with insurance and consider the cost to repair the elevator.
Read More from PowerNation
Latest PowerNation Episodes