This Chevrolet Colorado ZR2 Won at the Mint 400 Race, Despite Severely Damaging Its Frame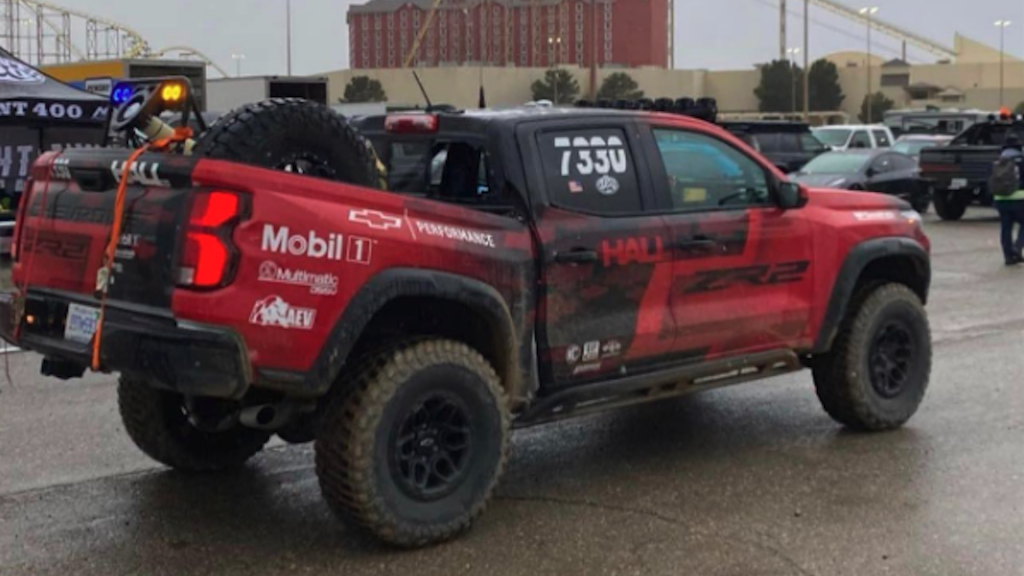 Over 500 racing teams in over 50 racing classes take part in the annual Mint 400 race, but one team in a new 2023 Chevrolet Colorado ZR2 took home the win in "The Great American Off-Road Race" in a very impressive fashion.
RELATED: 5 Things You Need To Know About the 2023 Chevrolet Colorado
The Mint 400 is known for being the oldest off-road race in the U.S., and is held every year on the outskirts of Las Vegas. This two-day event features plenty of racing through 400 miles of dirt and sand in the Nevada desert, a big parade down the Las Vegas strip, and a separate festival on Fremont Street. Because the desert hills have proven to be perilous for even the most skilled racers, it's not shocking for an off-road racing vehicle to cross the finish line with some wear and tear. But one Chad Hall Racing 2023 Chevrolet Colorado ZR2 managed to surprise everyone to take first place in a race, despite suffering a very bent frame mid-race.
Driven by Chad Hall and Waqas Shafi, the Colorado placed first in its class after crossing the finish line at 6 minutes and 39 seconds. Fans of the Bowtie brand saw this victory as a huge win for Chevrolet, putting more faith into its off-roading and competitive capabilities. Especially when faced off against its other competitors like the Toyota Tacoma and Ford F-150.
"The Chevrolet Silverado ZR2 ran a flawless race and took first place at The Mint 400 for 2023. Despite having some rear-end damage on the pre-production frame, the Chevrolet Colorado ZR2 also finished and took first place in its class," Chevrolet said in a statement. "The Mint 400 is notoriously one of the most grueling off-road races in the world. Chevy competes in racing to help develop, test, and prove the durability of its products in conditions far beyond what most customers would experience."
The 2023 Chevrolet Colorado is available at dealerships now and comes in five trims: the WT, LT, Trail Boss, Z71, and ZR2. While the WT and LT are more suitable for daily drivers and work purposes, the Trail Boss, Z71, and ZR2 are more designated for taking trails and off-roading fun. The 2023 Colorado is powered by many variants of the 2.7L turbocharged engine, and it comes with an affordable price tag starting at just over $30,000 and topping off at $48,000.
Read More from PowerNation
Latest PowerNation Episodes