These 7 New Easter Jeep Safari Concepts Bring The Past to The Future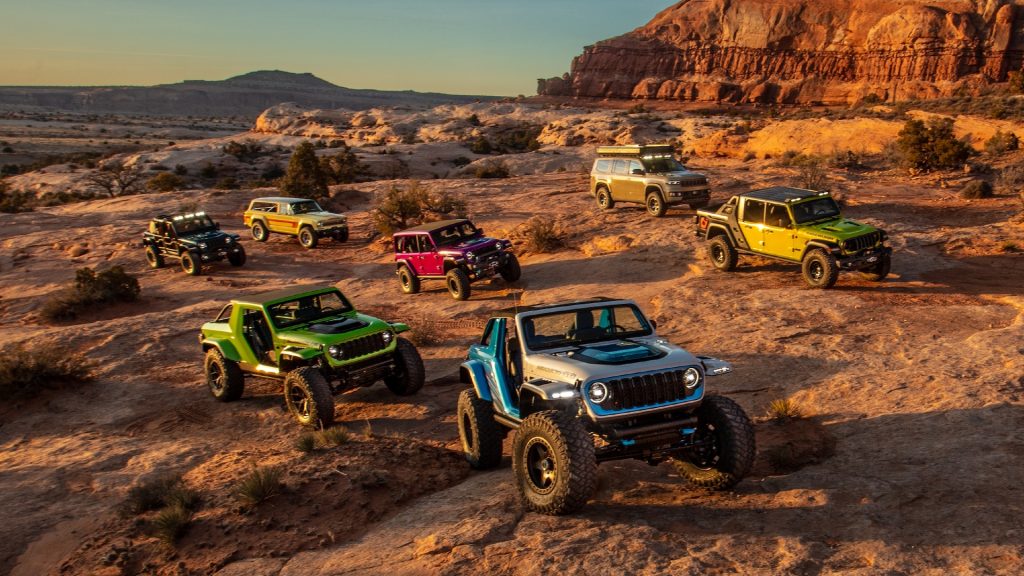 Every year Jeep reveals a new collection of concept vehicles at the Easter Jeep Safari to showcase the flash and functionality of its lineup. From April 1st to April 9th, 2023, the 57th annual Easter Jeep Safari is held in Moab, Utah to celebrate the brand alongside thousands of other Jeep enthusiasts by embarking on wild off-roading adventures and pushing the limits of the vehicles' capabilities.
"Every year, more than 20,000 Jeep enthusiasts descend on Moab, Utah, for Easter Jeep Safari to wheel in the most extreme off-road conditions, where our engineers continue to push the capability of our Jeep vehicles to next levels," says Jeep senior vice president Jim Morrison. "It's the perfect place to showcase our seven new Jeep concepts, because it's with these Jeep enthusiasts that we'll be able to push the limits even more and get their feedback on where they want to take the Jeep brand into the future."
This year's Easter Jeep Safari concept vehicles display a wide range of tastes and styles that resonate with Jeep's diverse following of enthusiasts. The collaboration of Jeep brand Jeep Performance Parts from Mopar display the possibilities owners can create, including the return of the popular battery-electric vehicle (BEV) Jeep Wrangler Magneto 3.0, the modernized throwback Jeep Scrambler 392, and the new Resto-mod 1978 Jeep Cherokee 4xe.
Easter Jeep Safari 2023: Jeep Wrangler Magneto 3.0 Concept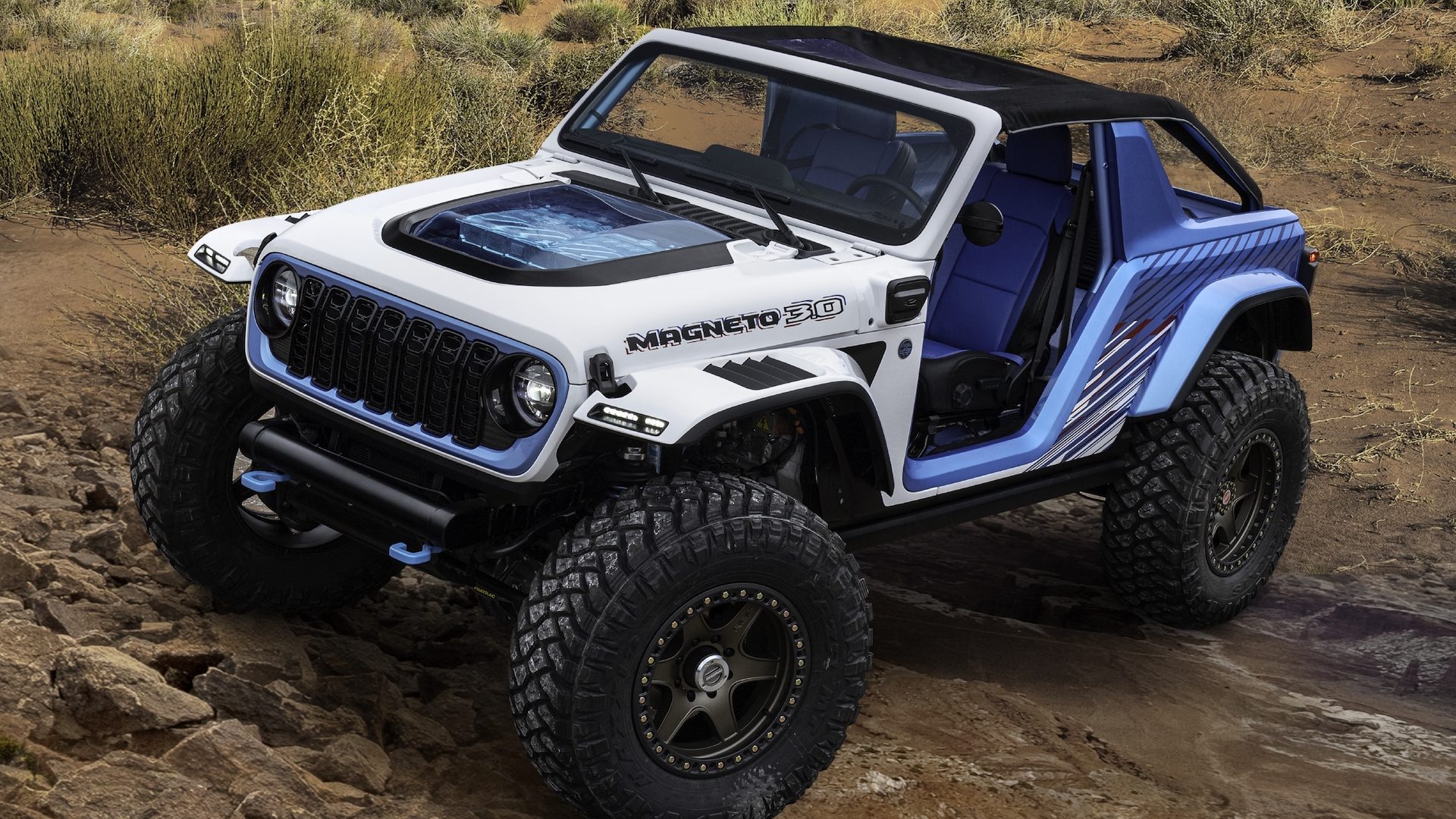 To promote its focus on zero-carbon emissions, the Jeep Wrangler Magneto concept makes its third appearance at the 2023 Easter Jeep Safari to show of how an electrified 4×4 can tackle even the toughest trails alongside with its gas-powered predecessors.
To balance its on-road and off-road capabilities, this new iteration of the Jeep Wrangler Magneto offers the choice of two power settings:
Standard: 285 horsepower and 273 lb-ft of torque
Maximum: 650 horsepower and 900 lb-ft of torque
The Jeep Wrangler Magneto 3.0 also comes equipped with a two-stage power regeneration mode that allows normal driving while off, or enhanced brake regeneration while using its electric motor. It also has an aggressive hill descent mode that comes in handy while taking on serious rock-crawling paths.
Easter Jeep Safari 2023: Jeep Scrambler 392 Concept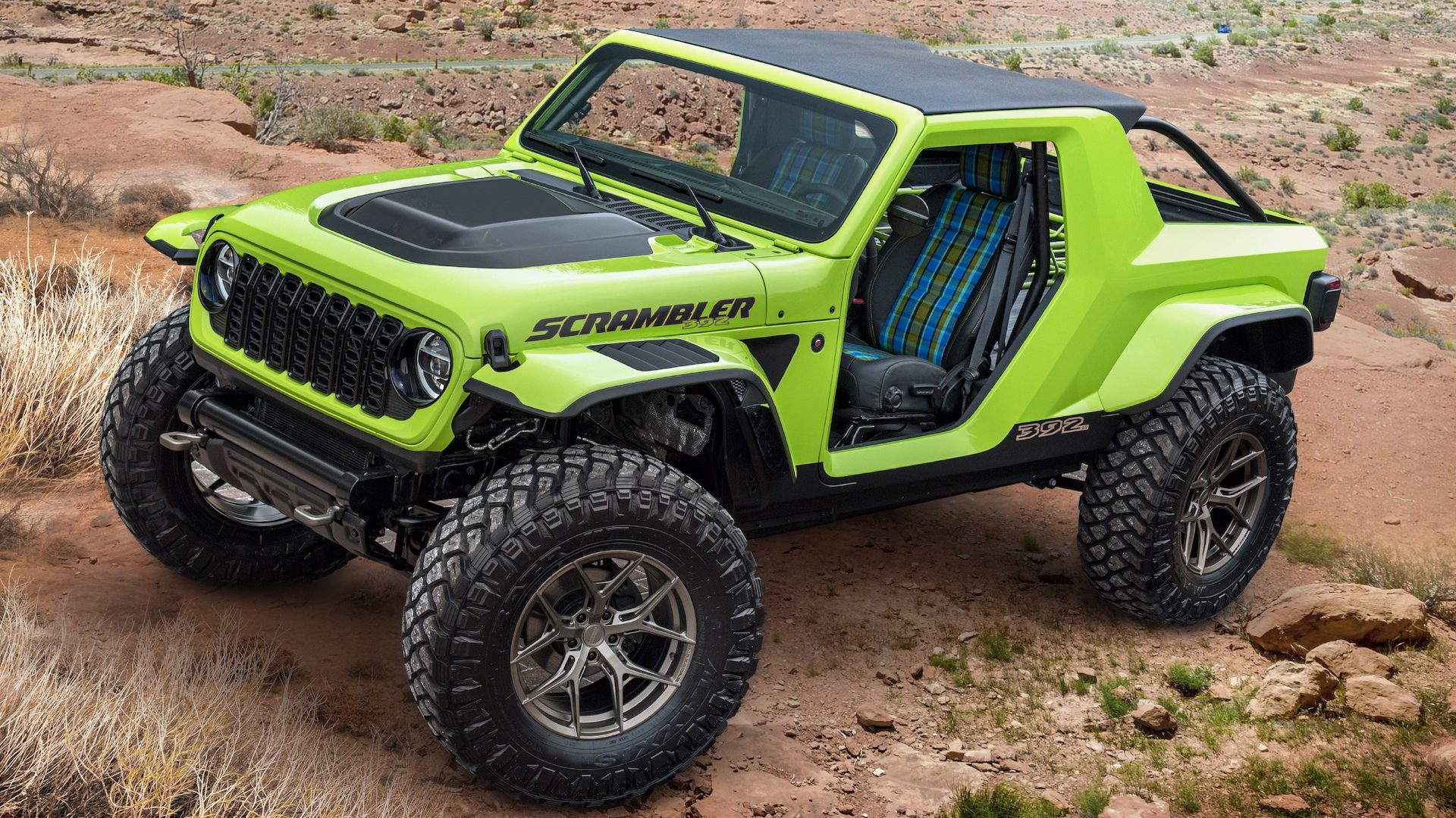 For those that remember, the Jeep Scrambler (CJ-8) first made its debut in 1981 as the first convertible, compact truck. But given its 5-year run, roughly 28,000 units were produced, making it a very tough find for dedicated Jeep enthusiasts.
40 years later, the compact truck is revived as the Jeep Scrambler 392 concept with a few overdue upgrades, like a 6.4-liter HEMI V8 engine that produces 470 horsepower and 470 lb-ft of torque. A pretty good power boost after spending four decades in retirement.
Easter Jeep Safari 2023: 1978 Jeep Cherokee 4xe Concept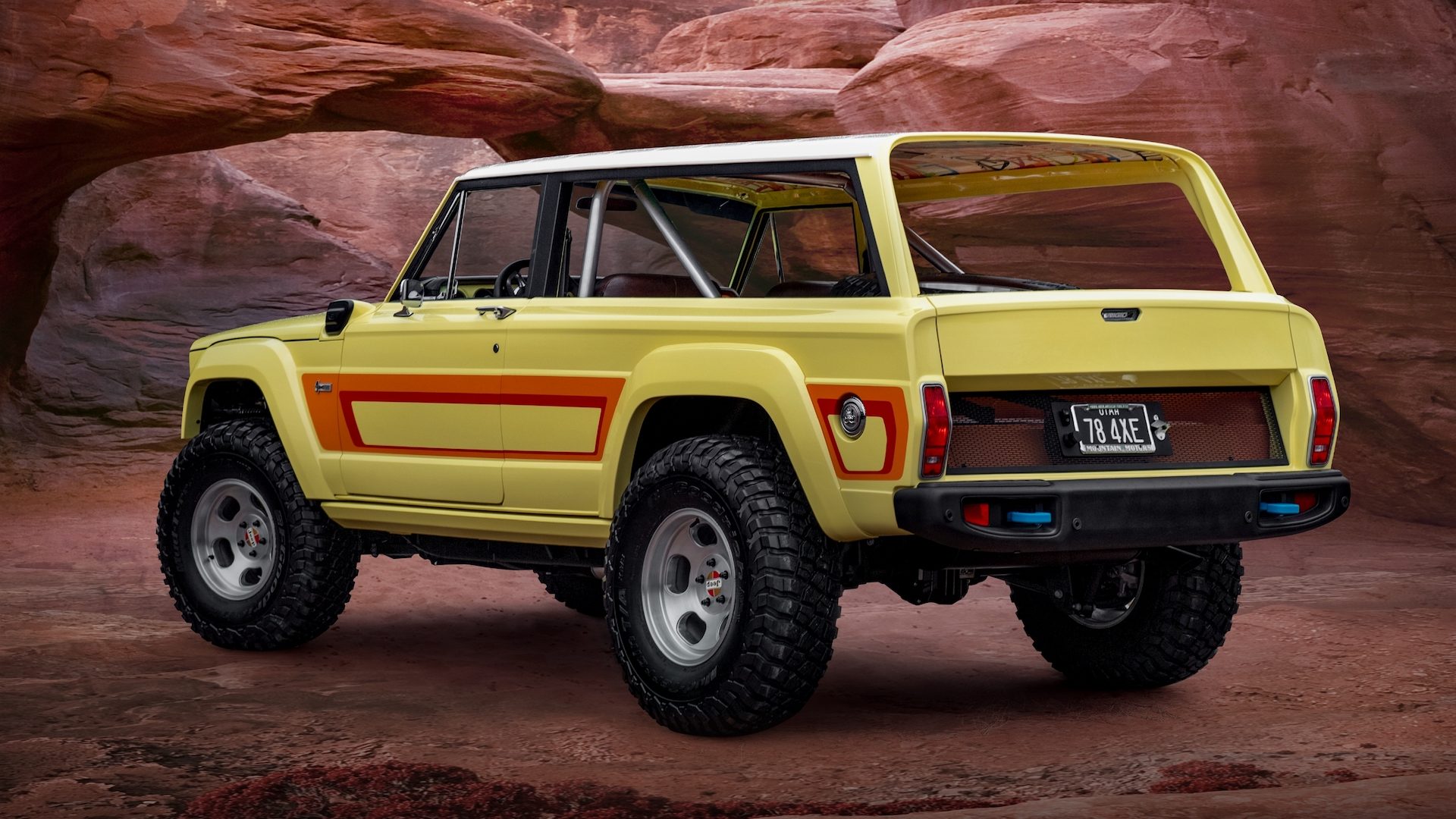 While in the spirit of drifting down memory lane, the 1978 Jeep Cherokee 4xe Concept pays homage to the classic '70s style with a sporty, two-door Wagoneer with bucket seats, a retro paint job, and a sporty steering wheel, aching for some off-road adventures.
Being that this is a resto-mod project, the '78 Jeep Cherokee 4xe rocks the up-to-date hybrid powertrain of the Jeep Wrangler 4xe, which features a high-voltage battery pack and a 2.0-liter turbocharged I-4 engine with eight-speed automatic transmission. The 37-inch off-roading tires on 17-inch "slotted mag" wheels are a nice touch as well.
Easter Jeep Safari 2023: Jeep Wrangler Rubicon 4xe Concept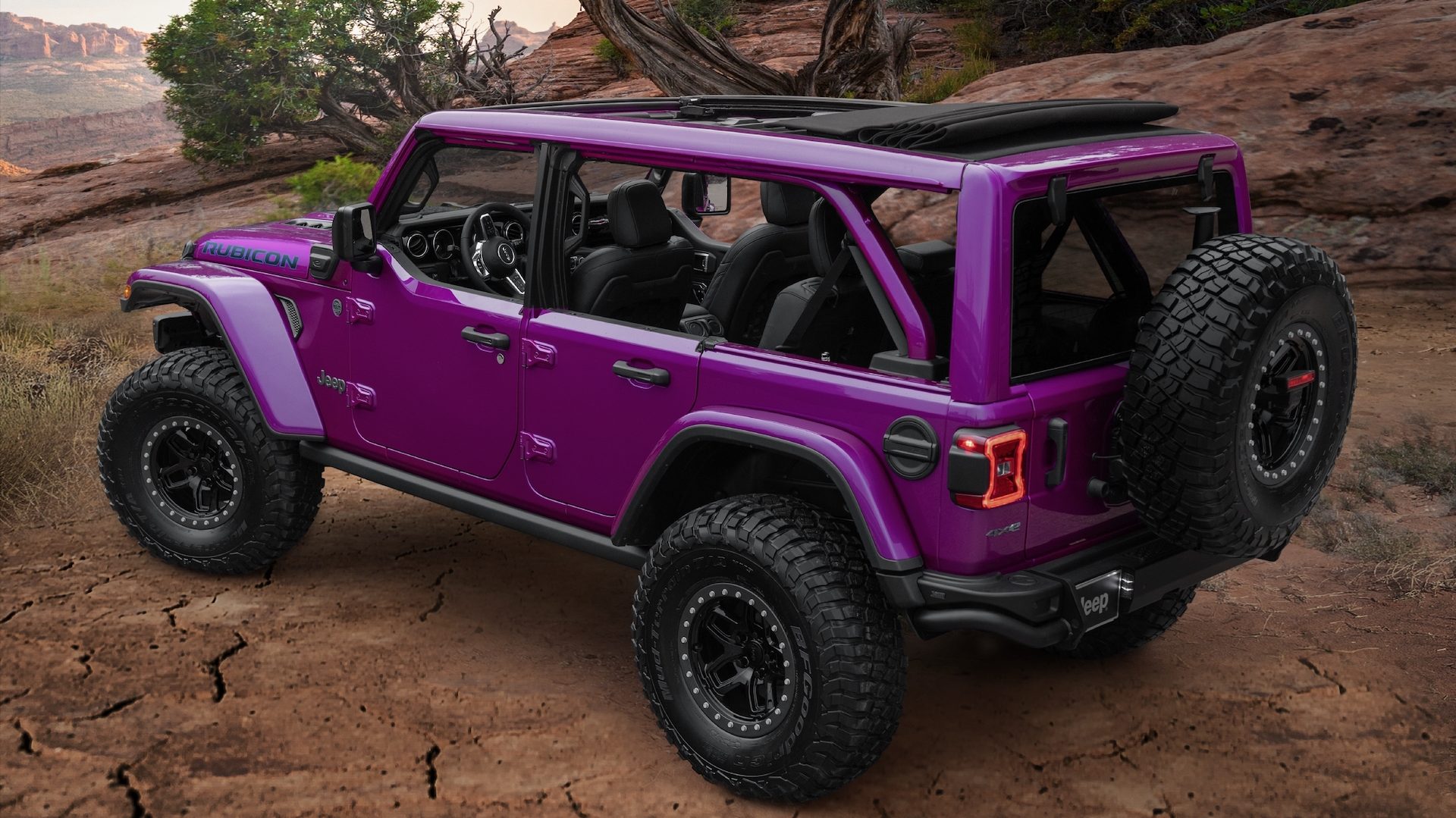 Sometimes making a bold statement is a quick way to receive recognition. The 2021 Jeep Wranglers were able to do that with the limited-edition Tuscadero color option, and Jeep's design team decided to bring the head-turning color back by cranking up the magenta with the 2023 Jeep Wrangler Rubicon 4xe concept.
Built on the current Wrangler 4xe's hybrid powertrain, this visually-commanding vehicle highlights its color choice by adding gloss-black accents, really making the pinkish-purple hues really pop.
But this Wrangler is more than just a pretty face. It is also equipped with an adjustable AccuAir air suspension kit to provide enough clearance for its 37-inch tires wrapped around 17-inch gloss-black American Expedition Vehicles Borah wheels.
Easter Jeep Safari 2023: Grand Wagoneer Overland Concept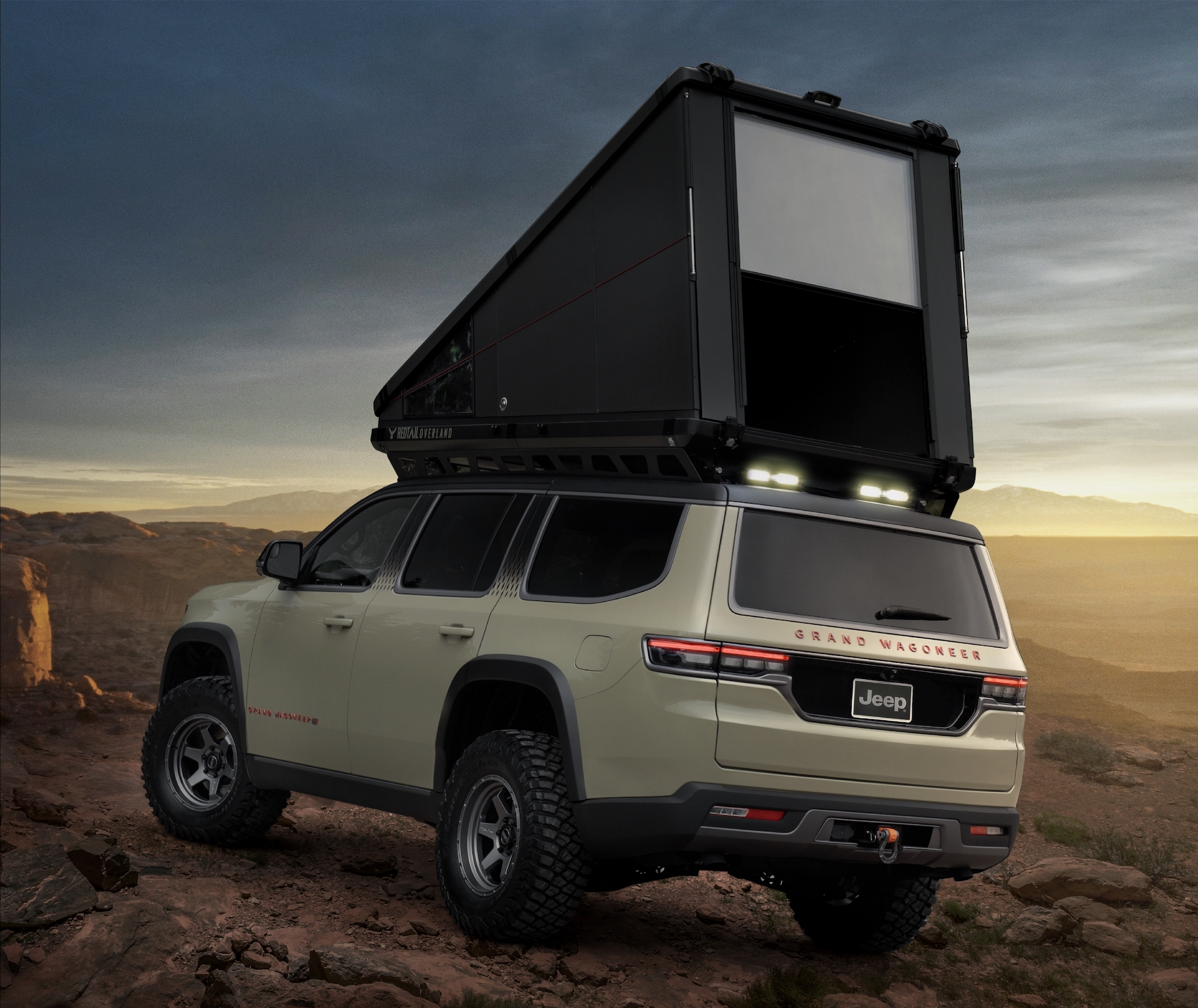 Overlanding has exploded among off-roading enthusiasts, campers, and people that just love the great outdoors. To show off how riding through the dirt and sand can mix perfectly with modern-day luxuries, the Grand Wagoneer Overland Concept was born.
By taking Jeep's premium SUV and adding a custom carbon-fiber RedTail Overland Skyloft to the roof, as well as converting the second and third-row seats into a laid-back, desert-inspired lounge, it's almost impossible not to imagine this vehicle to serve as a home away from home.
The 3.0-liter Hurricane Twin Turbo 510 (510 horsepower and 500 lb-ft of torque) also comes in handy for adventurers looking to explore beyond the trails.
Easter Jeep Safari 2023: Jeep Wrangler Rubicon 4xe Departure Concept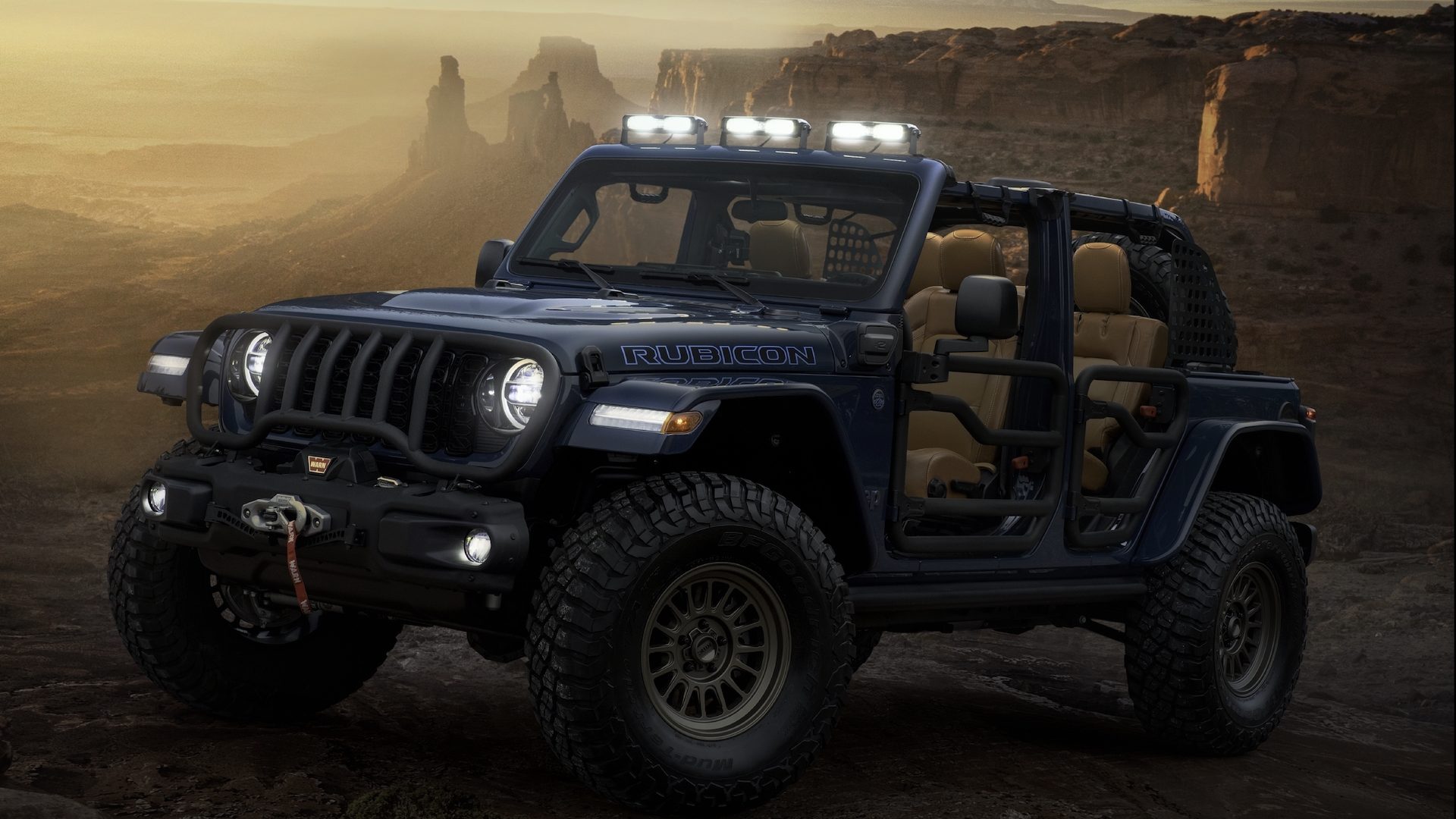 Many Jeep enthusiasts love having the wind in their face and being exposed to the elements that riding without actual doors is standard for them. By leaning into the open-air concept, the Jeep Wrangler Rubicon 4×4 Departure encourages its riders to embark on a lot more off-road adventures over daily point-A to point-B commutes.
To show that it takes adventure seriously, this Jeep rides on 17-by-8.5-inch Vintage Bronze KMC Impact OL wheels and 37-inch BFGoodrich tires, and features a JPP 2-inch lift kit with BILSTEIN performance shock absorbers. By using remote reservoirs, these shocks deliver more cooling for increased suspension use and an overall improved Jeep 4×4 off-roading experience.
Easter Jeep Safari 2023: Jeep Gladiator Rubicon Sideburn Concept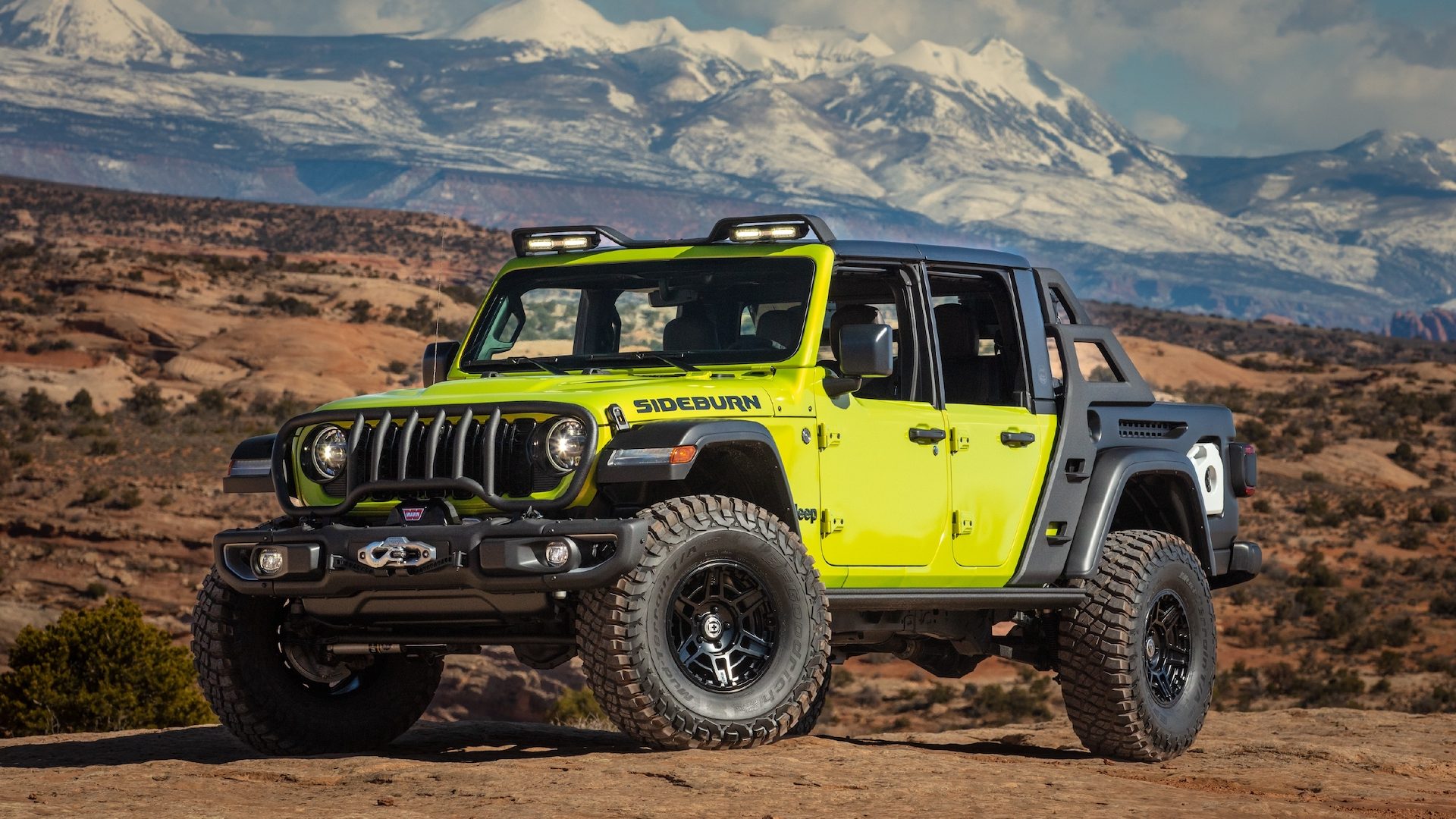 The final vehicle making its debut at the 2023 Easter Jeep Safari is the Jeep Gladiator Sideburn concept, that is an equal balance of flash, functionality, and fun.
Boasting an eye-catching Solar Flash Yellow paint job, the Gladiator Sideburn concept is a vehicle that commands attention both in looks and in off-roading ability. This truck is powered by a 3.6-liter Pentastar V6 with a JPP 2-inch lift kit and BILSTEIN performance shock absorbers that provide the same cooling ability as the Jeep Wrangler Rubicon 4xe Departure.
The bed of this truck is particularly interesting because it includes integral Molle panels above and behind the wheel flares for extra storage in order to enhance its intention to remain lightweight and fit. Also included is a modified Mopar bed-mounted spare tire carrier that can carry an extra 37-inch BF Goodrich tire housed around a 17-inch FT1 six-spoke wheel.
Read More from PowerNation
Latest PowerNation Episodes