Jay Leno Released From Hospital After Receiving Burn Treatment From Car Fire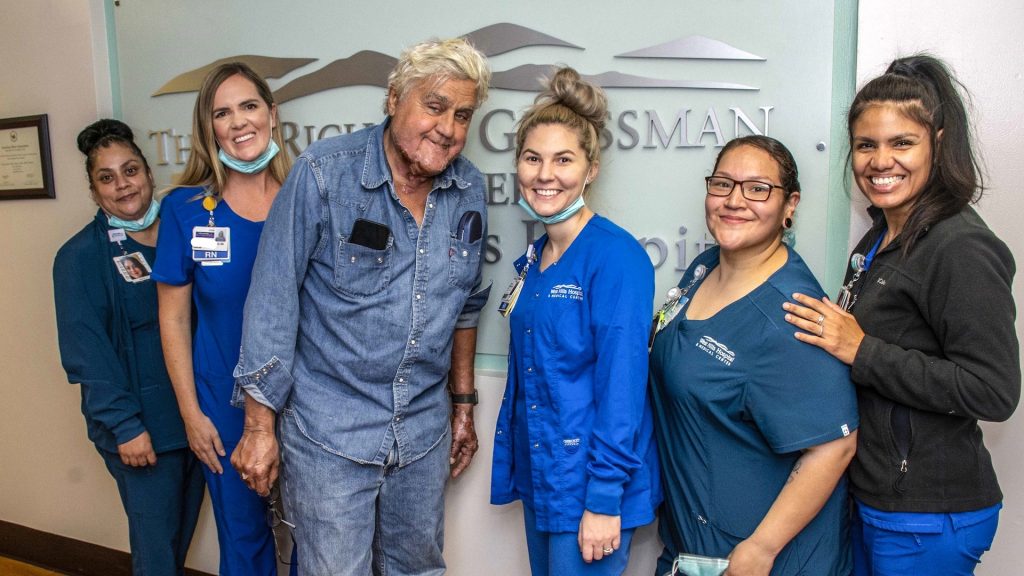 Comedian and television host Jay Leno has checked out of a hospital in Los Angeles after receiving treatment for burns caused by a car fire in his garage.
According to a report by NBC, Leno had suffered burns to his face, chest and hands after one of the vintage cars in his collection broke out in flames.
RELATED: Jay Leno Suffers Serious Burns in Car Fire
Leno has since checked out of the Grossman Burn Center after 10 days of treatment and will continue receiving outpatient care for his injuries.
In a statement released by Dr. Peter Grossman, a burn specialist and the hospital's medical director, "I am pleased with Jay's progress, and I am optimistic that he will make a full recovery."
Photos of Leno smiling with hospital staff were released online where some of the burns to his hands and face are going through the healing process.
"Jay would like to let everyone know how thankful he is for the care he received, and is very appreciative of all of the well wishes," the hospital said in a statement. "He is looking forward to spending Thanksgiving with his family and friends and wishes everyone a wonderful holiday."
Read More from PowerNation
Latest PowerNation Episodes